12 years of Kick it out! Yes, our game left the official Beta in may 2010. About time for a great update, isn't it?
KiO Solar Cup
Yes, we have a new great tournament!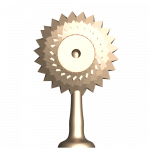 The Solar Cup will be the new second-tier weekly tournament, while the Galaxy Cup will be moved to third rank. The net result is that both tournaments can run with 64 participants (not 128 like now) and the 6th place in the league allows for participation, too. Also, we add a last minute registration period of 5 minutes before start, open for the public to decrease the number of bot teams. While at it, we are slightly changing the schedule for the Saturday tournaments.
To be precise, the new system works as follows:
10:00-15:30 UC-Qualifiers
17:30 League Cup Finals
19:15 Clan Master Cup
20:15 Universe Cup (for league champions and qualifier winners only)
20:45 Solar Cup (for league place 2 and 3 and league cup winners, with last minute registration)
21:15 Galaxy Cup (for league place 4, 5 and 6, with last minute registration)
With this schedule, more teams can participate in the great tournaments, they do not interfere with clan cups and the last matches of leagues are more important.
Let's find out who will be the first Solar Cup Winner on June 4th!
Team Events
We are also introducing a new rare item, the Team Event:
You can activate a team event any time (it becomes colorful then) to increase the morale maximum of your team by one for the next 90 minutes! Then the item vanishes.
Multiple active team events add up, but the morale maximum can never exceed 13. There are two very important things to note:
Team Events cannot be combined with Spring Awakenings. That said, they CAN be combined with the Motivator coach, so if you have him, you only need zwei team events to reach the maximum fo 13.
Activations do NOT increase the morale, only the maximum. You need to raise morale the usual way as long as the active event remains to get advantage from it.
Team Events will show up in platinum treasure chests. They replace half of the magic shoes in there, which means that rarity of other items does not change. Also, there will be Team Events in the summer season pack available june 1st.
Team Events are made for the most important matches! You'd propably want to activate them before the last league match or the Universe Cup. Remember you need time to actually raise your morale by winning tournaments before your important event actually starts.
Wrapup
The updated app is scheduled for release on may 30th. It will also include the translated version of the new KiO manual which is available as PDF. This replaces the old wiki.
Thanks for playing and let's have fun together for another 12 years of Kick it out!