All 192 qualifiers have been played, the Kick it out World Cup group tournaments are scheduled for July 3rd!
As announced, we made sure that no group has two or more teams from one clan. Some teams have been shifted to achieve this.
Now here are the groups!
Group 1
BMC Spvgg Koeln-Hanau
-BW- **Lucky SpiksBW**
IKG Europe Kicker
TFA SV Prösen
TFF FC Südfriesland
TRM SVW Salzgitter
Group 2
-BF- Feeds United
-BH- Fc Beckingen
BMC Grün-Weiß Borgsdorf
-GVV- FC Muff
TFA BvB Lippstadt 09
TFF Borsigplatz 1909

Group 3
1889 4 ever FC Torrausch
-JR- Ostblechbande
RSK-U fc jacob 2019
TFA 1fc sambuca
TFF FC SANTBOIÀ 3-S
-ZPP- Welcome to Hell

Group 4
1FC Augustin Kickers
-BF- Eintracht Mario
-GVV- KÖNIGSKLASSE TREMMEN.EV
TDS Samsun 55
TFA FC Ballspiel F.C.
TRM SC LUI KON

Group 5
BMC Kickers21
-GVV- Rathenow FC
LINZ FC Grillinger
TDS Crinch55
TFA SportgemeinschaftDD
TRM Gustedt Socceroos

Group 6
BMC fc klanta
-GVV- xEARTHQUAKESx
NAB domnitsch
TDS Gold State Warriors 2019
TFA Marios Bierpatrioten
TFF SV-Husum

Group 7
1889 The LAST Stylebander
BMC FC Schalkham
-BW- **FIREBOYSBW**
-GVV- Sylter Sport
TDS kicKING
TRM 1.FC Meinland I KB

Group 8
-BH- Rot Weiß Hechingen
BMC FC Isobobo
DFN bnmfjiu.bu
IKG FC Highflyer
JVP starsontour1909
SOBERANO PODER

Group 9
BMC 1.FC Größenwahn
-GVV- FC Hillary
IKG 19 er Graupen
JVP Fortuna Himbeergeist
-OBC- Caen Kylian34
TFF Weserfun Minden

Group 10
-DE- SV Katzow 49
-GVV- Svænne Exercitus
IKG CarinaCologne
JVP FC Deep Depp
-ZPP- Halli Galli Lucker 81
MC P@Ds Borussia 09

Group 11
101 Devotees United
-BF- Goleador Derby
-BH- Black – Pearl
-GVV- FC Hot Dog
TRM Ayyildizspor 74
Ufr Gochsheim

Group 12
-BH- SG Schneifel
-GVV- Plantbased United
JVP SC Newbekistan
TFA Daan
TFF SV Ripuar Homberg
-ZPP- Phönix Karlsruhe

Group 13
-BH- 1.Fc Sakima
BMC Hounds of Hell
CAFFE Lampogol
-IRN- Nassajii
TFF 1. FC Steeve HD
TRM uA Sari Kirmizi

Group 14
-BH- FC Bayern Kettwig
DFN thesnakes Wölfe
FRANK SG 2013-Rugensau
-GVV- Yin Yang 33
TFF SG 1 Kommando
TRM Moeschy

Group 15
1889 BLADES
-BH- Taudemeister
-BW- Aran Banjo
IKG BTAK Iserlohn
TFF TSV 1860 Aufräumer
-ZPP- FC Kölsch 1978

Group 16
-BH- Galacticos KingX
-GVV- FC Flummi 1909
IKG FC Ucefoloc Agale
TFF Borussia Burgermeister 1900
TRM Torpedo Rostock I KB
Eintr8 FFM 1899

Group 17
-BF- FC OLDIS Germany
-GVV- Münster 2016
IKG Rockets OL
-OBC- Tejupilco FC
PIZZA FC SensibleSoccer
TFF GeWuKi 21

Group 18
-BH- Walking with Strangers
CAFFE River monsters F. C.
-GNA- BFV Bochum 1848
-OBC- Wandering Rovers
TFA Fußball Club -MD- 1965
TFF Fc Emdschi20

Group 19
-BH- FC Rot Weiß Holzbein 1890
IKG Beach Clarets
JVP BORUSSIA JENA
TFF FC Döner jawull
TRM Sohn Lotte
-ZPP- SpVgg Sülz 07

Group 20
-BH- FC AUSTRIA 67
CAFFE Club Pirates 1913
-DE- Bu-Pv FcB
TRM Kölle 1948
Die wilden Elf
Yukisan Juventino

Group 21
1889 Bruchpiloten Ismaning
-BH- Kumpelverein BSG Wismut Aue
DFN Isar Tiger München
-GVV- simon242
PIZZA Gianni Rivera
-ZPP- Gokkun

Group 22
1889 Master-T FC
-BH- ESV Lokomotive Borussia
BMC ZORRO
TFA FC Bayern Sport
TRM Snakeville
Stanze2

Group 23
BMC SG Dynamic Dresden
-GVV- 1.FC Werkself 1904
IKG FC Frauenpower
JVP FC Kasuif
-OBC- Villamartin C.F.
TFA Magic Stars 1

Group 24
BMC Biersportverein Berlin
-DE- Greifswalder SV 14
DFN HAHOHE 1892
TDS Dark days
TRM MTV AlkoholHademstorf
True Believers

Group 25
-GVV- merheim München
NCNC Keksz United
-OBC- Shooting Break
PIZZA Milanista FC
TFA KSCeWILDPARK
Pannenkicker

Group 26
BMC SC Regenbogen Einhorn
JVP CKC Green
-OBC- DreamMogs Dribblers
FC Gummikrebs
Eintracht Zwiespalt 09
Oben OHNE

Group 27
BMC Rumpelfuß
IKG SC Kayhan
JVP Klautern 1900
TDS Le Coq 2020
TRI Nugget
-ZPP- Team-Odw

Group 28
-BH- fc 1846 ich
CAFFE Fortuna kalabrien
-GVV- SV.mike the best
IKG woodie77
JVP borussia baden
OFP Starke Berliner Bären

Group 29
-DE- Berna
DFN Aufstiegskolonne 1892
-GVV- Germania Solingen
JVP Bananenzupferl
K J EmiliaMarie
-ZPP- Baumi Fc

Group 30
-BF- Padertaucher
-BH- Rote Teufel Amateure
BMC Barfuß Bergheim
-GVV- Münster 2004
JVP BIEL
TRM BlexenCity

Group 31
-BF- FC Herrschall
-BH- Allfield Utd
ENZ FC Stahlbach 89
TFA Marcs Bierpatrioten
Pocalujmniewdupe
Amirhossin FC

Group 32
1889 Osujinho FC
-BH- Team Migelos
-FUN- SuperFrog
-GVV- FC lützel 85
TFA Thunder Angel
TRM SG halbe Lunge Rohrbach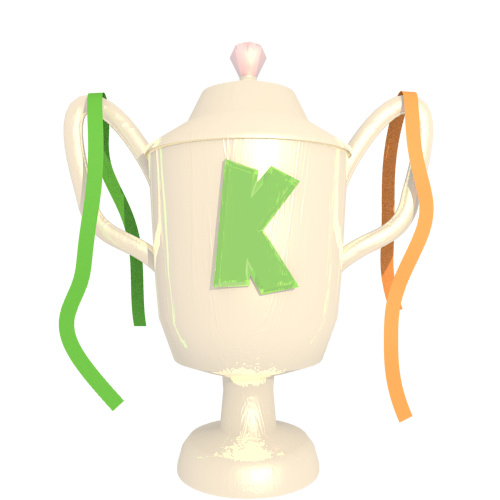 Four of five previous World Cup winners are qualified, among many top teams, and some hopeful newer teams, that's great!
The group phase tournaments will be held in league mode with rematch, so your team will have 10 matches! Place 1 and 2 advance to the final tournament on july 10th.
If one team in a group should not show up, it is replaces by a bot. If two teams don't show up, the tournament size is reduced to 4 (6 matches per team). If three teams don't show up, tournament size is 4 and a bot team jumps in.
The group tournaments start on saturday, July 3rd, 12:00 UTC (14:00 CEST) one after another with a delay of some minutes between each tournament, to reduce server load. We cannot tell the exact start time for all groups, but expect the last group (32) to start roughly between 13:30 and 14:00 UTC. All tournaments will show ab at least one hour before start, so it's impossible to miss yours!
All the best for the group phase, let's have a great and fair KiO World Cup!