This weekend, we would like to promote self organized tournaments once again. To help you with that, you get a free tournament organization ticket for each 100 played matches between friday morning and monday, midnight.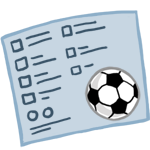 Important notice
As you all know, the importance of the rightly chosen counter formation has been increased according to the poll we did.
That said, we still have the rule that choosing or not choosing a certain formation in a certain match is never considered as intentional manipulation.
But we have some users playing with multiple teams (which is legal). But it is illegal to manipulate matches, and as a result, users should never play with multiple teams in the same league.
From now on, whenever we find out that a user does this, that user gets a message strongly suggesting him to change the league with one of his teams. If he does not, we presume intentional league manipulation. This is treated as multiaccount abuse, resulting in a ban for the secondary team (the team with lower prestige/level) and a yellow card for the primary team.
We do not want to prohibit playing with multiple teams. But not in the same league. Thanks for your understanding!