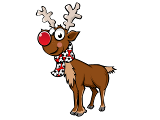 There are two small christmas special events this year.
We have hidden a small amount of treasure items in surprises and presents. So if you are lucky, you can get a rare treasure item when you ooen a surprise or present!
Furthermore, if you finish a regular mascot challenge, until the end of year, you get Rudolph the Reindeer as mascot. It works the same as any other mascot, but it's something not everybody has!
And visit us on Facebook. Daily competitions!
Please note that until january 5th, the Ludetis team is in holidays mode. Please understand that it will take more time to answer questions.
We wish you a mery christmas!