Welcome to the second preview of the upcoming update to KiO 8!
Reminder: The update will be released on November 27, 2016 for Android and Windows.
In this preview, we would like to introduce you a new innovation: the Advanced Coaches.
You can release your trainer in the future (free on Saturday, otherwise against compensation)!
The four new "Advanced Coaches" will be available in addition to the standard trainer in the shop.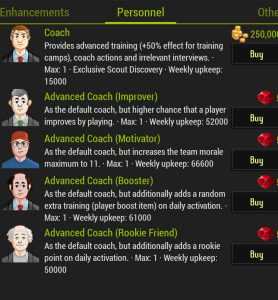 The first new coach we would like to introduce is the "Improver", which increases the chance for players who are able to play through the game. You could compare it with Pep Guardiola.
Of course Jürgen Klopp must not be missing, who is the "motivator". This advanced coach increases the maximum morale from 10 to 11.
Also Felix Magath aka the "Booster" has made it into the game and allows you to generate an additional boost per day through its activation.
The last trainer we would like to introduce to you today is the "rookie friend", in Germany also known as Julian Nagelsmann. This advanced trainer will focus on the youth work and allow you to create an additional talent point per day.
You can commit these trainers instead of the normal trainer and they give you certain advantages, as described above. Of course they are a little bit more expensive than the standard coach, but we are sure you will like them!
Have fun!