The release date for KiO6 is in near future, it is time for the next preview of the next major update.
As already announced in the last preview, kio6 contains a number of large and small improvements, which consist largely of requests from the community.
Today we want you as announced in the title, show you how the coaches actions will look after the update.
From now on, the coach has no more influence on the game, only on the team.
How this should look like, we now show you with two examples:
motivator
Increases morale by 1 (max. Up to 3)
Cost: 3 action points trainer
special training
A random upgradeable player receives +1
Cost: 6 action points trainer
requires 5 Experience points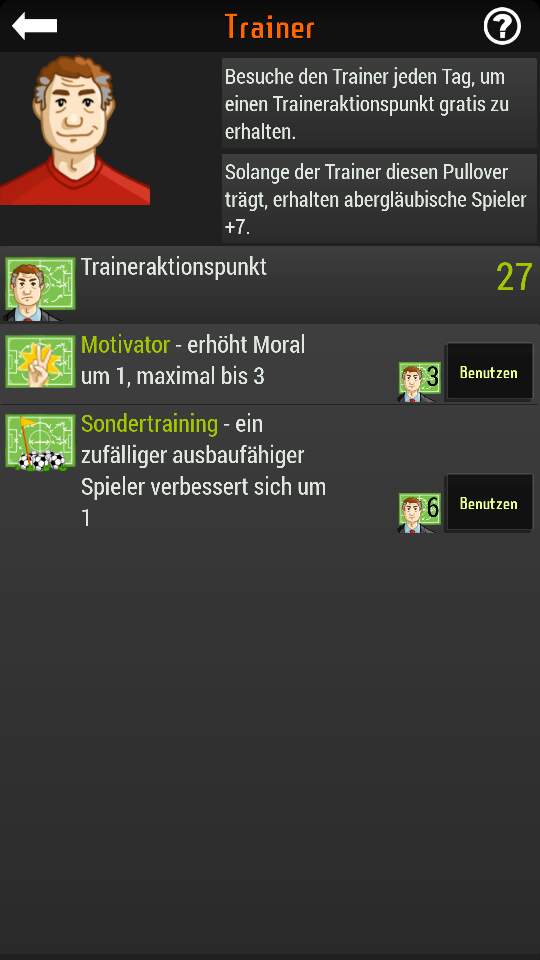 As can be seen clearly, is the coach action "motivator" primarily intended for casual gamers, since you can quickly push up with his own morality.
The action "special training" is particularly suited to train the players the strength limit exceeded Q90 (training camp no longer act from this limit). It is well applicable for all other players.
Of course it will not stop with this two featured coaches actions, but we hope that these two suffice presented so that you can you take a picture of the future of manager actions.
IMPORTANT ADDITIONAL INFORMATION: With KiO6 the old flags will be completely abolished. They lose any benefit and can only be recycled.