We are proud to announce the release of the Kick it out beta version for Android tablets.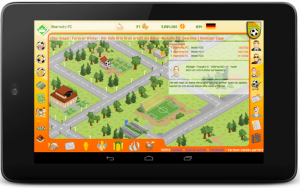 This is an open beta, so everybody can try the new version. Note though the following restrictions:
You cannot install the tablet beta and the regular version on the same device.
The beta version uses a beta server, so you cannot play your existing team during the beta phase. You can of course switch to your existing team after the beta. After the beta, which will take 2 to 4 weeks, all registered beta teams will be removed.
The beta isn't available on Google Play, but only on kick-it-out.de for direct download. You may have to enable third party app installation on your device to install it.
There are no in-app purchases. You find everything you might need in the in-game shop.
Some minor features will not be working, for example organizing own tournaments.
Some legacy features are not supported by the tablet version, i.e. flags and the old training center II.
We hope for your feedback to improve the beta version. Use the ingame feedback form only. You don not need to report crashes. The app does this on its own once you restart it after a crash.
The tablet beta does run on non-tablet devices properly and will look like the well known phone version. Don't try it.