The forthcoming update will bring – due to popular demand – a new rookie contract type: Top Platinum Specialist Rookie Contract. If you activate this contract, you will get a 97-99 player and you can select position and specialist type.
Obviously, this costs a lot of rookie talent points: 58 to upgrade from the platinum specialist contract plus 7 to choose the position. Here is how this looks like: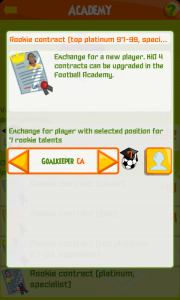 This new contract type will at first be available in the Android version only.