This saturday, we'll bring you something totally new: The first Kick it out live audio stream ever. We'll broadcast the KiO World Cup final tournament on our internet radio station starting saturday around 16 UTC. Here's the link: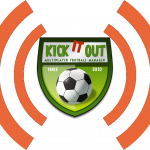 This should work on most browsers including Chrome on Android. You can keep the browser open in background and listen to us while you continue playing KiO.
Please note that most of the stream will be in german language, but we'll try to speak a little bit english when non german teams are involved. Of course we cannot cover all matches, but we'll focus on matches with well-known teams and of course more details like goal scorers in the final rounds.

Join us in this show!