Find all eggs!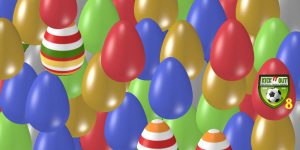 From friday to monday (8-24 CEST), you can get eastereggs for playing, for example for playing matches or participating in tourmanents… figure it out for yourself!
But after a couple of hours, the action changes and you have to figure out again how to get eggs.

There are eggs in six colors, and once you have collected FIVE of one color, you can activate it and get a free item. Rare colors give better items.
Note that all eggs will be removed from inventories a couple of days after easter. So make sure you activate your 5-of egg packs in time! Piles of less than 5 eggs of one color are useless once the special ends.

Now have fun and make sure you find all those eggs!