While in Germany all matches have been cancelled due to heavy snowfall, the Africa Cup of Nation is gonna start. This brings of course a new special: You find a limited young african player with strength up to gold or platinum with 25 percent specialist chance in the premium shop until monday evening (it's the first entry on the shop).

Ah, just kidding about the cancelled matches. But if you want to see how Germany looks right now, get and install version 8.0.5 from Google Play.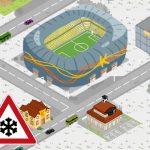 Now build a snowman or get your african players – your choice! Have a great weekend!