Today, five years ago, Kick it out! 1.0 was published on Android Market. Today we are celebrating this birthday with one free present for each forth match you play from 10 CEST to midnight!
KiO started of as one of the first multiplayer football managers for Android. The first version supported friendlies, tournaments (including Universe Cup), kit colors, mascots and superstitious players (still, no other manager game we know of does have this) and the coach. He was available in the Coach Pack alongside with an Action Pack containing training camps, players and other items.
We came a long way from there, and we as a tiny independent company are proud to see our game still being played and respected. Of course we're going to continue our task to create the best possible, most funny and possibly hardest ever football manager game together with you, the community. So let's see how KiO looks in another 5 years. But now, have a look at a screen from 2010.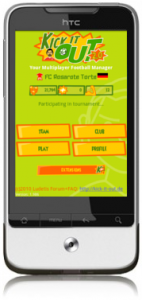 Now, let's celebrate and play, play, play, have fun, because that's what the game is for, what we're working for!
Thanks for being with us.