The next KiO update comes on may 5th with the following changes:
Acceleration of building sites with ruby
Mostly interesting for beginners this allows to build up your team infrastructure faster. Ruby cost per acceleration (6 hours) depends on the remaining building time and starts at 1 ruby.
Rename Player item
The shop will start to offer a rename player item for 39 ruby. You will be able to rename players you owned from their "birth" only to avoid confusion. This means that you can rename players you got from the academy, the shop or from your initial squad (if you still have one), but not players from the market. Well-established rules apply: Names of existing players are not allowed, but you may modify those names slightly, so a "Leo Messy" definitly is allowed. All name requests will be reviewed manually as for team and stadium names, so this can take some hours.
Achievement rewards
Whenever you get a new achievement medal, you will also receive a free item. A surprise item for each silver medal, a surprise pack for gold, and a treasure for platinum. Please monitor the news ticker to see when this server-side feature is activated. Having downloaded the latest update does not enable the items!
Reworked pre match phase
The phase before a match starts has been reworked completely on Android. Look: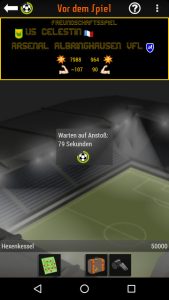 Not only the countdown clock looks nicer – it also shows up in the header of each screen (on the main screen in the team info box). You will be able to switch screens freely, and return to the pro match screen any time! This will make playing much more straightforward and gives you flexibility.
Furthermore, at least to crash or hangup bugs have been fixed in the Android version.
Please note that the ios version is delayed until further notice, but ios users will also receive the achievement rewards as this is a server-side feature. The Windows version will show up shortly.
We are sure that the new version will impress you. As a side note, Kick it out celebrates 6th birthday end of may, and we'll bring more exciting improvements to the game on this occasion.