Das wichtigste zuerst: Kick it out! 4.0 erscheint für Android am 10. November.
Die ios-Version verspätet sich um einige Wochen, ein genauer Termin wird noch genannt. Für winphone 7.5 erscheint KiO 4.0 nicht, dafür aber für Windows 8 – wenn auch erst 2013.
Kick it out! 4.0 bringt neue Ligen in Ländern wie Brasilien, Argentinien, Japan und so weiter. Wir haben viele Fans in fernen Ländern, und jetzt bekommen sie eigene Ligen.
Der Ligen-Screen wird außerdem komplett überarbeitet; ihr könnt dann vom Startbildschirm aus mit einem Klick den aktuellen Tabellenstand sehen: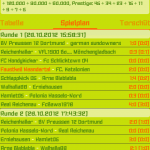 Wer auf dem Screenshot genau hinschaut (rechts oben in die Ecke) erkennt noch ein neues Feature der Version: Die Online-Hilfe, die alle Fragen beantwortet, für die bisher FAQ oder Forum zuständig waren.
English:
Kick it out! 4.0 will be released for Android on November 10th.
The version for ios is delayed. We will inform you about the release date as soon as possible. KiO4 will noch come for winphone 7.5, but for Windows 8 – next year.
KiO 4 brings new leagues in countrys like Brazil, Argentina, Mexico, Japan and more. We have many fans in those countries and now they get their own leagues.
Furthermore, the new version has an improved leagues screen. You can see your position with just one click on the main screen.
If you have a close look, you will notice a new icon in the top right corner of the screen: Yes, KiO4 has a built-in online help, which answers all questions.